The NASL Team of the Week is selected based on performances on Saturday evening and features the best XI players in their respective positions.
Of course the selections are open to debate and fans are encouraged to have their say through social media at www.Facebook.com/NASLfans and on Twitter @NASLofficial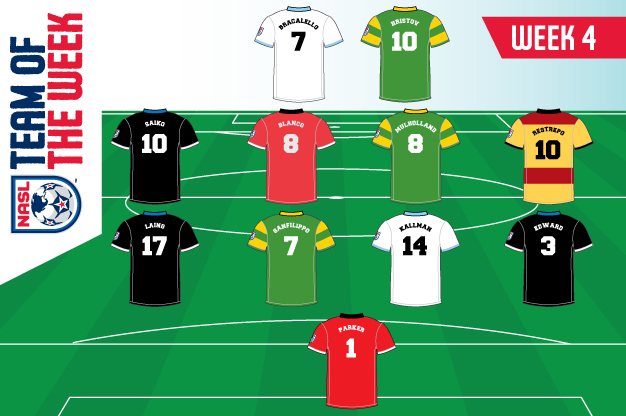 Lance Parker, FC Edmonton
Made four saves and kept a clean sheet in Edmonton's first win of the season.
Edson Edward, FC Edmonton
Created danger down the right-side and defended well in FC Edmonton win. Edward drew a penalty which resulted in the match's lone goal.
Brian Kallman, Minnesota
Scored goalon a header of a corner in United's 3-2 win at Atlanta.
Frankie Sanfilippo, Tampa Bay
Marshaled the Rowdies backline and dealt easily with a dangerous Strikers attacking group.
Lance Laing, Edmonton
Provided width on the left side for Edmonton going forward and was solid in defense during the Eddie 1-0 win.
Walter Restrepo, Fort Lauderdale
Completely changed the dynamic of the game after his half-time introduction. Scored from the tightest of angles after rounding the Rowdies goalkeeper.
Shaun Saiko, Edmonton
Converted a penalty kick during the final minute of the first half, to provide the only goal of the Eddies first win of 2013. Saiko also generated four shots on the day.
Luke Mulholland, Tampa Bay
Pulled the strings in midfield for the Rowdies, and showed his eye for goal with a low drive from outside the box to open the scoring against Fort Lauderdale.
Milton Blanco, Atlanta
Opened the scoring against Minnesota marking the third successive Silverbacks match where Blanco has recorded a goal or an assist.
Georgi Hristov, Tampa Bay
Put in a man-of-the-match display for the Rowdies, creating both goals and troubling the Strikers defense all night.
Simone BracalelloMinnesota
Scored the game-winning-goal and provided an assist in Minnesota's 3-2 victory over Atlanta.