San Antonio Scorpions defender Blake Wagner scored in the opening seconds of the match to set his side on the path to a 2-0 victory over Minnesota United FC at Toyota Field and earns him the North American Soccer League Player of the Week honor.
Wagner, who moved up to play in midfield on Saturday instead of his usual defensive position, had his best game of the season which he started in dramatic style by scoring San Antonio's first goal just 54 seconds into the match, firing a shot off of a rebound from teammate Hans Denissen that beat Minnesota's goalkeeper Matt Van Oekel.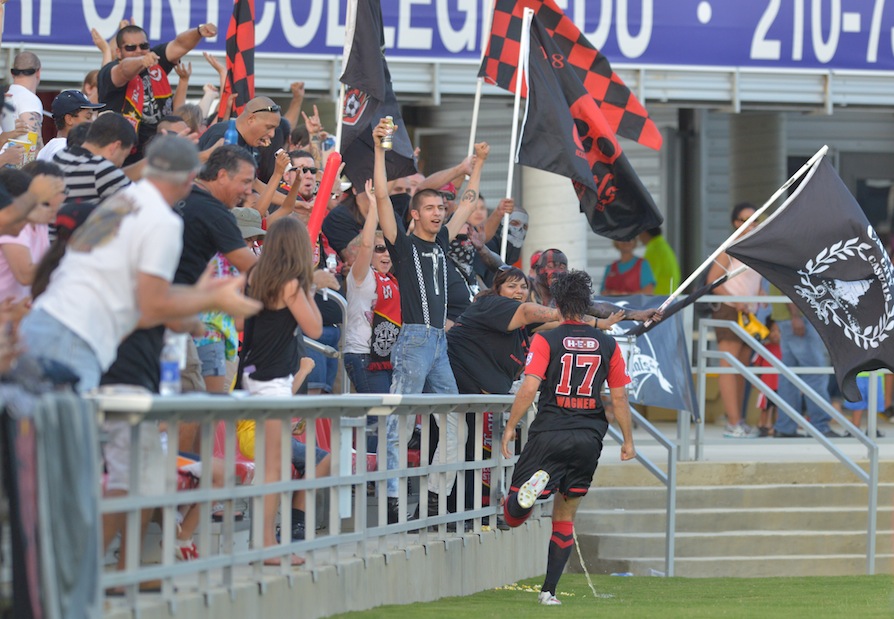 "It feels good to be recognized with this award," said Wagner "But for me, it's always about the team and the fact that we were able to get the three points on Saturday."
Another goal by Honduran midfielder Walter Ramirez at the 90th minute-mark gave the Scorpions their second consecutive home win as San Antonio remains in the hunt for the NASL standings top spot and a chance to host Soccer Bowl 2013.
Wagner signed with the Scorpions in 2012 after stints with FC Dallas and Vancouver Whitecaps FC of Major League Soccer. He has been playing since the age of 13 and was identified by U.S. Soccer through their national Olympic Development Program joining the U-14 team. He was then recruited to U.S. Soccer 's U-15 residency program at the IMG Academy in Bradenton, Florida, where he lived and trained, while traveling globally with the team. Wagner was a starter with the U.S. side that competed at the 2005 FIFA U-17 World Cup in Peru.
Scorpions coach Tim Hankinson also commented: "Blake really had a tough go of it in pre-season with injuries, and since then he has really turned a corner and is one of our top professionals. His attitude and determination to help move this team forward was reflective in his opening minute effort to get that first goal on Saturday, and he continued that level of intensity for the entire game."