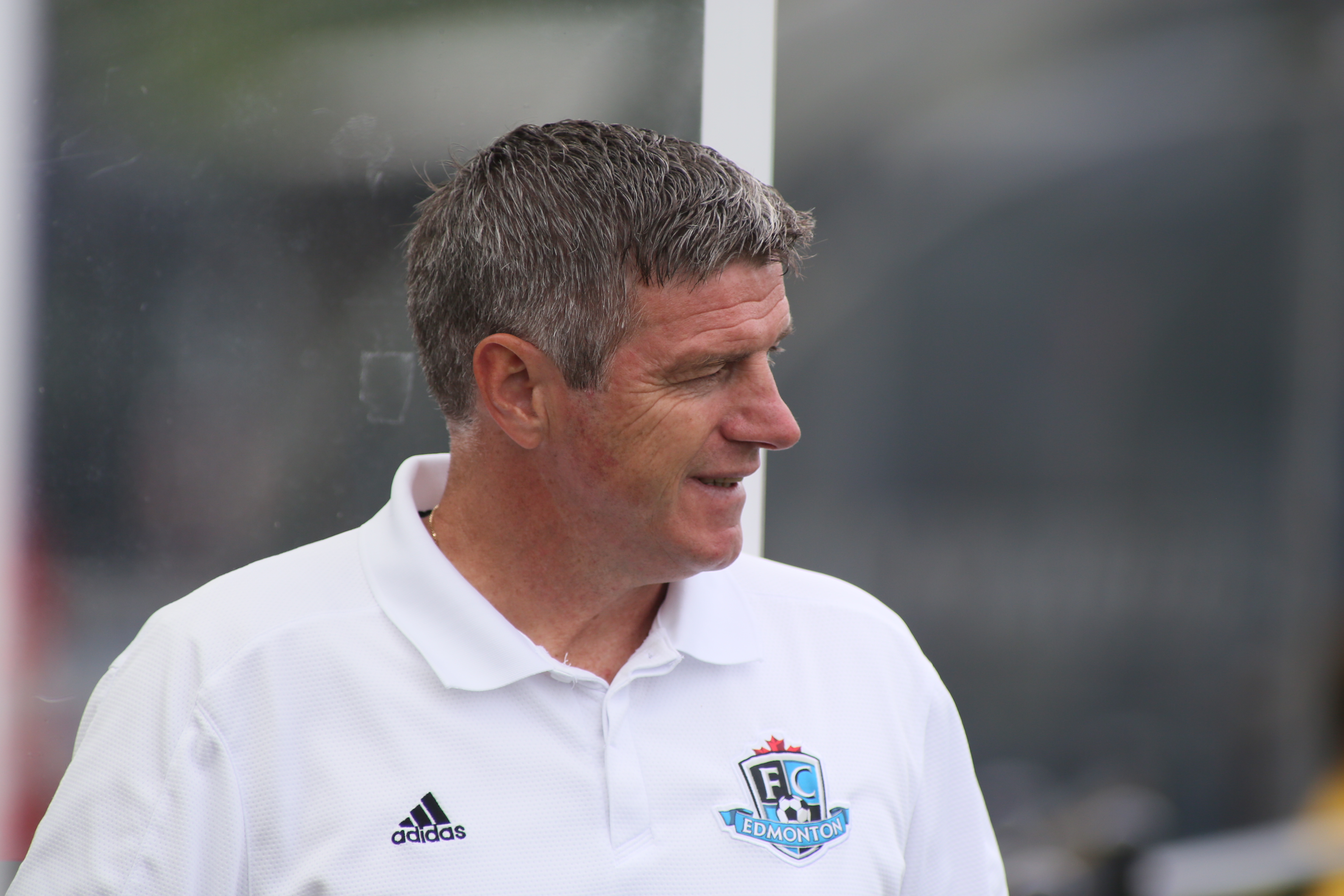 When FC Edmonton coach Colin Miller told young midfielder Hanson Boakai to prepare to make his NASL debut from the substitutes bench, he knew exactly the emotions the 16-year-old was experiencing.
When aged 17, at the beginning of his own North American Soccer League career, Miller himself made his full debut for the Toronto Blizzard away to the Portland Timbers and became the league's youngest ever player.
That was on June 26, 1982 that Miller made history. On Sunday, June 16, he passed on the honor to Boakai.
"I remember very much the game we played at Portland, which we lost 2-1," said Miller. I remember the pace of the game and how warm it was. I played the full 90 minutes and thought I did ok for my debut.
"It was a really star-studded team but a very hard working team and it's probably easy now to say that I was very relaxed about it, but at the time I'm sure I was a wee bit concerned because I wanted to do well and keep my place in the team."
Being able to put himself in Boakai's shoes, Miller had some simple words of advice for the 16-year-old as he came on at Clarke Stadium with 25 minutes remaining in the game against the high-flying Carolina RailHawks.
"I told him to enjoy it and do exact what he does in training with us," explained Miller. "He has been terrorizing our team all season long and Hanson was definitely part of the substitutes plan for the game on Sunday.
"He doesn't train with the reserves and has been in with the first team since February 18. We took off an 18-year-old and put in a 16-year-old and had a 20-year-old up front, which is great for Canada."
Miller has an ulterior motive for developing talent for the country that adopted him at the age of 10 when he arrived from his native Scotland. As interim head coach for the men's national team, Miller will guide Canada's fortunes at this summer's CONCACAF Gold Cup tournament, in a tough group alongside Mexico, Panama and Martinique.
"He's earned the right to be where he is, but we have to monitor him and he has to buy into the fact he has a very bright future," added Miller of Boakai. "We will play him when we feel it is right and not force him into situations.
"I've spoken and told him he has to be patient. He won't feature in every game and has to be drip-fed into the first team."
Back in Miller's NASL days, players younger than 18 were prohibited from making active rosters and his record came as a result of having graduated high school in Vancouver as a 17-year-old, which was permitted. Back then there was also a positive support system in place to nurture a promising young hopeful.
"We had some really experienced players who were really helpful to the younger players," said Miller. "The rules required that there had to be three homegrown players on the pitch at any one time so that enabled me to get my chance.
"I played alongside Bruce Wilson who in my opinion is the best player Canada has ever produced. He was a left back who was as quick as anyone you would play against and had an educated left foot. He was a major influence on my career. He played for the Cosmos and the Chicago Sting and had a fabulous career."
Having played 23 times during a three-year spell with Toronto, scoring twice, defender Miller signed with Scottish giants Glasgow Rangers. He enjoyed a 16-year professional career in Scotland and England that was very much nurtured in Canada.
Times have changed since Miller's debut season, but he sees a bright future full of opportunity that is now open to Boakai.
He explained: "I'm quite excited that now in Canada we have four professional franchises and then Ottawa comes in so the future now is as good as it was in the old NASL days for a Canadian coming through the system. Hanson, I think, is a special talent and if we continue to develop him, I think he could move on to a terrific level of football. He is still learning and we have to try to teach him the game as best we can."
Just as it was during Miller's teenage years, the coaches who mentor and guide talented young players will play a key part in Boakai's development. Miller and childhood friend Frank Yallop, who forged a successful career in England with Ipswich Town, were brought through the system by then Vancouver Whitecaps coach Alan Errington.
"There were a lot of players such as Frank and myself who came through that program and Alan managed to get us into a higher level of football," said Miller. "He cared very much about the players and how he treated them so it was a really good production line and three quarters of the national team came from BC at the time. I had some terrific people push me in the right direction."
Now it is Miller's turn to guide Boakai in the right direction.