By Dylan Butler
On a night the New York Cosmos of the past were honored, the current squad began its second incarnation with a dramatic 2-1 win over the Fort Lauderdale Strikers in the North American Soccer League fall season opener in front of a sellout crowd of 11,929 at Shuart Stadium on the campus of Hofstra University Saturday night.
Before the Cosmos first match in nearly 30 years, Cosmos legends Pele, Carlos Alberto and the late Giorgio Chinaglia, represented by his son George, were honored.
Perhaps fittingly, as was the case so often in the Cosmos heyday, an Italian striker came up with a dramatic game-winner as second-half substitute Alessandro Noselli's glancing header following a Strikers miscue in the second minute of stoppage time led the Cosmos to the victory.
"He's a striker, a player who we know what he's capable of," Cosmos coach Giovanni Savarese said of Noselli. "He scored in Italy for many years. He was very smart reading the play and being able to put it in dramatically at the end."
Pele, Carlos Alberto, Cosmos legend Shep Messing, NASL commissioner Bill Peterson and legendary Strikers midfielder Teofilo "Nene" Cubillas also greeted the teams before the match.
"We're thrilled with the return of the Cosmos and if not this year, very soon we're going to have the same kind of team we had before," Carlos Alberto said. "The most important thing for people to know is we're not here to play games. We're here to really seriously play this game hard."
While Messing said the current Cosmos need to form their own identity, he said they're already off to a better start than the team he played on that also called Hofstra University home in early 1970s.
"Before Carlos [Alberto] came and helped us build the Cosmos name and win championships, I played in this stadium in my first professional game," Messing said. "The Cosmos becoming one of the most famous teams in the world didn't happen overnight. We had 1,500 fans, 2,000 fans, 3,000 fans. … I wish we had a crowd like this my first game for the Cosmos, but it will be one step at a time to reach hopefully the heights that we had before."
Added Savarese: "Patience is the best virtue for us right now, but we have a better base in this new beginning than in the past."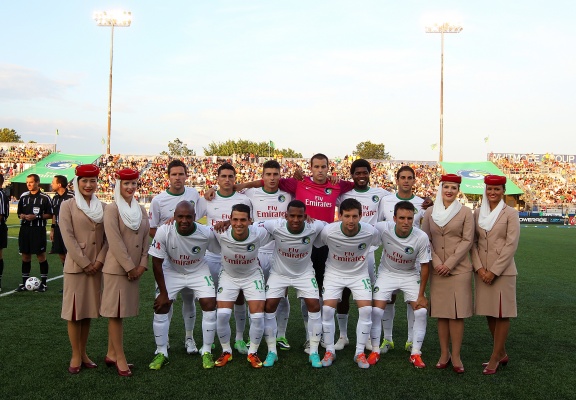 Noselli, who came on for Stefan Dimitrov in the 62nd minute, pounced on an errant back pass and headed it past Fort Lauderdale goalkeeper Richard Sanchez for the winning goal, one Strikers coach Gunter Kronsteiner said was essential an own goal.
It was a bitter pill for Fort Lauderdale to swallow because it rallied to equalize in the 73rd minute when Walter Restrepo beat Cosmos goalkeeper Kyle Reynish to a ball in the box and headed it into the open net after Cosmos defender Carlos Mendes initially headed a Strikers long ball inside the box.
"Under the circumstances I was proud and a little disappointed because we had the draw in our hands and took it away from ourselves," Kronsteiner said.
Peri Marosevic scored the first Cosmos goal in nearly 30 years in the 44th minute, taking a touch in front of the goal and tapping it past Sanchez following headers in the box by Cosmos defenders Joseph Nane and Hunter Gorskie after an Ayoze corner kick.
"We know we're going to have pressure on us," Marosevic said. "The thing we focus on is playing the game for fun. It's truly an honor to be part of this club and to step on the field and wear that New York Cosmos jersey."
While Kronsteiner was quick to praise Sanchez after the match, veteran midfielder Marcos Senna was influential from the opening moments for the Cosmos. He spotted Sanchez off his line and nearly beat him with a midfield volley, but the ball went over the bar in the 14th minute.
Seven minutes later, the former Villarreal midfielder controlled an attempted clearance of a Cosmos corner and unleashed a blast from 24 yards that Sanchez dived to his right to parry away.
"For me it is great privilege to be here," Senna said. "I will confess to you I had great anxiety, it was a complicated match, a difficult win but we made it. I'm very happy. I'm excited for this project.'
It was the first time the longtime rivals met since May 8, 1983 when Giorgio Chinaglia struck for a brace and Roberto Cabanas added a goal to lead the Cosmos to a 3-2 win over the Strikers in front of a crowd of 25,134 at Giants Stadium. Thomas Rongen and Branko Segota scored for Fort Lauderdale in the loss.
And while that was one of the best rivalries of the old NASL, this was the first of what will be a new chapter between these storied franchises.
"It's very cool to be part of this moment," Sanchez said. "I obviously didn't live in that era where the Strikers and Cosmos were rivals, but I did know coming into the game they were pretty big rivals. I knew this was a pretty big game for the both of us. Being part of this was a good experience for me and I want to build on this."