The New York Cosmos left it late to make a dramatic triumphant return to the North American Soccer League with a winning goal deep into injury time to defeat the Fort Lauderdale Strikers 2-1 as the 2013 Fall Season kicked off.
Italian striker Alessandro Noselli pounced on a misplaced defensive header just as a draw seemed the likely outcome against old rival Fort Lauderdale to delight the excited sellout 11,929 crowd at Hofstra University' Shuart Stadium.
"He's a striker, a player who we know what he's capable of," Cosmos coach Giovanni Savarese said of Noselli. "He scored in Italy for many years. He was very smart reading the play and being able to put it in dramatically at the end."
Pele, Carlos Alberto, Cosmos legend Shep Messing, NASL commissioner Bill Peterson and legendary Strikers midfielder Teofilo "Nene" Cubillas greeted the teams before the match.
"We're thrilled with the return of the Cosmos and if not this year, very soon we're going to have the same kind of team we had before," Carlos Alberto said. "The most important thing for people to know is we're not here to play games. We're here to really seriously play this game hard."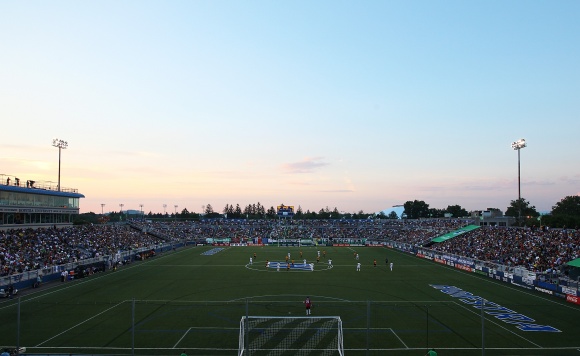 There was also drama in San Antonio where the host team Scorpions tore into a 3-0 lead after only 18 minutes, but were rocked by four Tampa Bay Rowdies goals and more second half strikes as the reigning 2012 NASL champions returned home with a stunning 7-4 win and took top spot in the standings.
Six different players found the net for the Rowdies, including new signing Etienne Barbara, after league-leading scorer Hans Denissen had struck twice for the hosts, taking his season total to 10 goals in the race for the NASL Golden Boot.
The NASL Spring Season champion Atlanta Silverbacks, who will host NASL Soccer Bowl 2013 in November against the eventual fall champion, edged a 1-0 win away to Minnesota United FC. Defender Mike Randolph scored the decisive goal after 32 minutes and then the Silverbacks stoutly defended against Minnesota's determined by futile comeback attempt.
The Carolina RailHawks and FC Edmonton had to wait out a lightning and rainstorm and power outage that delayed their Fall Season start by almost two hours. When the action did begin, RailHawks striker Brian Shriver wasted no time in chasing the Golden Boot with his ninth goal of the season that proved the difference between the teams.
North American Soccer League Fall Season Week 1 Results­
New York Cosmos 2 Fort Lauderdale Strikers 1
Game recap: http://www.nasl.com/index.php?id=3&newsid=5112
San Antonio Scorpions 4 Tampa Bay Rowdies 7
Game Recap: http://www.nasl.com/index.php?id=3&newsid=5117
Minnesota United FC 0 Atlanta Silverbacks 1
Game Recap: http://www.nasl.com/index.php?id=3&newsid=5116
Carolina RailHawks 1 FC Edmonton 0
Game recap: http://www.nasl.com/index.php?id=3&newsid=5114