Former NASL forward Mike Flater who played for Denver, Minnesota, Oakland and Portland and represented the US Men's national Team has shared some of his treasured game jerseys and memories with NASL Swap Meet.
Read more about the NASL Swap Meet and how to send in your memorabilia here.
The jerseys pictured, which were all worn in the 70's, have stories to tell, particularly from the picture that shows four different Portland Timbers Jerseys worn in between 1978 and 1980.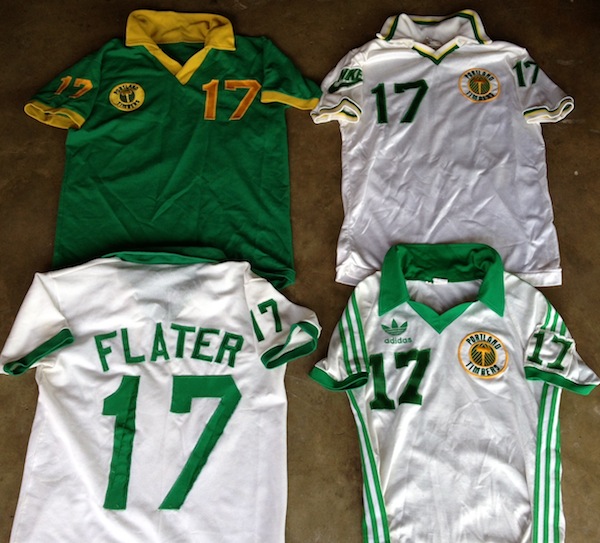 Here is a story told in Mike Flater's words:
"Some of those jerseys proved to be lucky and I scored a few goals in them in league and International games, but the most outrageous goal I saw wearing one of those jerseys came from Carlos Alberto of the New York Cosmos. It was during the Cosmos shootout win over the Portland Timbers on May 17, 1978.
After a 1-1 score in regulation time the game went to the dreaded shootout - five seconds to score from the 35-yard line. It is a difficult situation where both striker and goalkeeper shut each other down, close down angles and it takes a certain amount of poise and skill to score.
But Carlos showed us why Brazil will always be Brazil. I can still see the move and at the time it was like watching slow motion at full speed. From the 35-yard line Carlos pushed the ball forward several yards then lifted the ball to himself in the air tapping it once, tapping it twice and then unleashing from 25 yards out a dipping bomb of a volley that blew by a flailing Mick Poole so fast he did not know what went by him. In fact He barely waved at the ball as it hit the back of the net - the right upper "V" of the net that is. Just pure Class!
From that point onwards it was no longer Carlos but 'Mr. Alberto' to us! Needless to say it stunned the crowd, it stunned us and they went on to win that shoot out with ease.

The second photo is similar to the first except it has the 1972 Olympic jersey in the top right hand corner and the top left hand corner has the 1977-1978 USA national team or Team America jersey."